By Sophie Couchman (Chinese Australian Family Historians of Victoria)
---
The Victorian CEDT Registers contain the names of people who applied for a Certificate Exempting from Dictation Test in order to ensure they could return to Australia without having to sit a dictation test. The decision whether to set the test, designed to be unpassable, rested with officials who were instructed to give it to 'colored' arrivals.
There are a number of reasons why you might not be able to find your ancestor in the Registers:
They did not travel between 1904-1959
They travelled but did not intend to return to Australia
They were born or naturalized in Australia and travelled on their birth or naturalization certificates
They obtained a special exemption and travelled with an official letter
They travelled under a name that you do not know or spelled in a way that you have not considered
Note that sometimes you will find that people who did not need a CEDT actually travelled on one (see 'Born in Australia but travelling on a CEDT?: The O'Hoy and Tong families' blogpost). Some people may also have applied for a CEDT even though they did not intend to return – 'just in case' (see 'Found: : Louey Leong Hock' blogpost).
Sometimes you might never know why your ancestor did not travel on a CEDT but sometimes you might find the answer elsewhere. For example in 1891 Cheok Hong Cheong, his wife and children were issued a lifetime exemption from the Victorian Chinese Act 1890. This exemption was published in the Victorian Government Gazettes.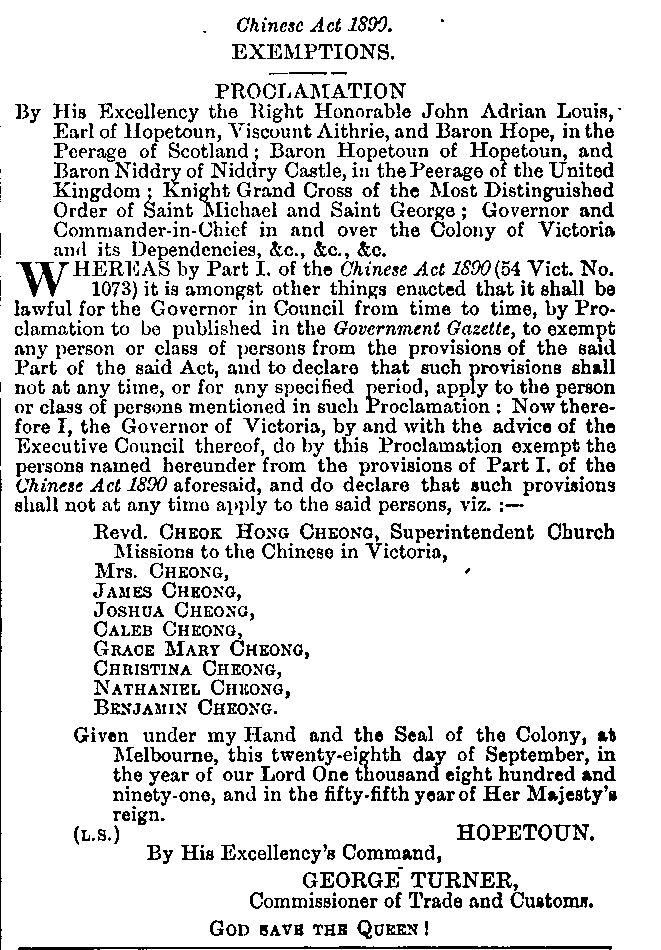 This lifetime exemption was used with limited success by James Cheong when he returned to Australia in 1930. I say limited success, because although his father wrote to the Department of External Affairs prior to his return James was stopped by officials when he tried to disembark in Tasmania. In a letter to the Department of External Affairs Cheok Hong Cheong quotes his son's experience of this.
I felt hurt [...] that I hadn't free ingress into the land of my birth and education & training, where I had hoped to spend the best years of my life. I have a feeling now that I am a sort of exile from my native land & that it wants to take very little to cause me to turn my back upon it & go elsewhere... You will I hope make it all right with the Customs people so that I may land at Melbourne without any fuss or annoyance.
Searching the Victorian Government Gazettes we find that Chinese missionary James Tong Wai was also granted an unlimited exemption under the Victorian Chinese Act in 1890 but then in 1894 was nevertheless granted a two year exemption under the Act. Do not be surprised when these administrative systems do not work as you think they should.
And while we know that some prominent Chinese Australians were able to find ways to travel without a CEDT there are also plenty of prominent figures that you can find in the Victorian CEDT Index. This includes Chinese missionaries Paul Chin (of Carlton) and David Lu Gohn (of Castlemaine), Chinese Times newspaper editors T.C. Luke, Wong Shee Ping, well-regarded merchant families such as the O'Hoy family of Bendigo and Chinese herbalists like Frank Sam Goon and his family of Ballarat East.